Orthotic shoes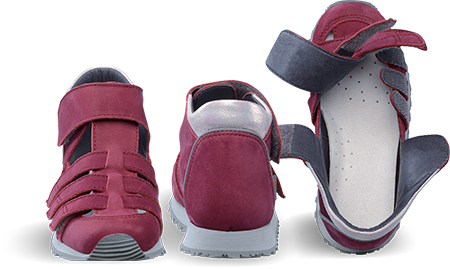 Space for therapy
Many people find wearing a leg orthosis too restricting for their freedom of movement. To combat this, our orthotic shoes are designed to ensure an optimum fit for the foot, orthosis and therapeutic shoe. The sturdy heel cap combined with the flexible raised collar guarantees a good hold and a secure stance.

However, an ideal fit is not the only thing that matters for our shoes. For ease of everyday use, it is also vitally important that our orthotic shoes are easy to put on and take off. Therefore many of our models feature a slip-in loop which makes it easier to do just that. But that is not all: The special "Derby" construction allows the whole shoe to be opened up very wide.

However, when designing our orthotic shoes, we do not confine ourselves to addressing the medical issues: fashion considerations also play an important role.

That is why our therapeutic shoes strongly resembles normal shoes in design. To ensure this, we keep track of the latest fashions, popular cuts and colours and integrate these into our therapeutic shoes to help people feel good in them.

If further adjustments are needed for orthotic purposes, our orthopaedic shoe technicians can make these on an individual basis. Specific orthopaedic adaptations and fittings can be added to all our orthotic shoes, ensuring that every foot receives optimum care.
Available in the widths TN5, TN8, TN9 and TN12. Where each foot requires different care, shoes of differing widths and sizes can be combined without difficulty.
Illustration: diagrammatic depiction of insole shape and internal volume of the last.
Our orthotic shoes: a combination of proven medical functionality and a fresh appearance
The right footwear is an important addition to an individually produced orthosis. Shoes worn by people wearing an orthosis not only have to satisfy certain key requirements, but must also make walking and running easier.
For the reasons we remain in close contact with our customers with the aim of making continuous improvements and refinements:
New orthotic shoe width TN12
Orthotic shoes for joint orthoses
Flexible outsole
Due to their material quality and shape, conventionally manufactured shoes are not up to meeting the requirements of orthoses. That is why we recommend our therapeutic shoes.
New orthotic shoe width TN12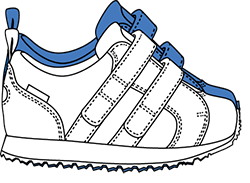 To facilitate treatment involving bulky orthoses we have developed together with our craftsmen a new width for our orthotic shoes: TN12.
We supply every shoe in the width TN12 with two insoles in 40 and 50 Shore, means that the volume can be changed by removing one or both of the foot orthotics.
By this way the external design of the shoe is not affected. If a therapeutic shoe is only needed for one foot, a different width and shoe size can be provided for the normal foot, in the familiar way from all other TN widths in the orthotic shoe category.
Flexible outsole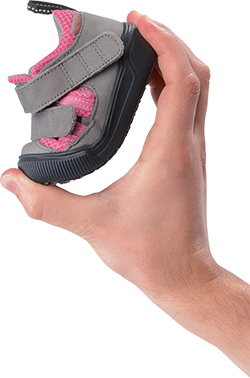 Ever thinner and more flexible materials are used in the orthopaedic handcraft and its treatments. In response, we have introduced an even more flexible version of the sole for our orthotic and support shoes.
All shoes designated in the tables as 'flexible' are extremely elastic. None of this has any negative impact on the therapeutic benefits of the orthosis.
Orthotic shoes for joint orthoses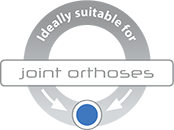 Wearers of joint orthoses need a shoe with a specially shaped heel. Although the shoe will have a more voluminous rear-foot and heel area, it must nevertheless fit well. That is the only way to ensure it holds the foot properly in place and guarantees correct foot movement when walking.
Our orthotic shoes, which are marked with this symbol, have been specially designed to meet these requirements.