Materials
Leather is part of nature

We work exclusively with manufacturers who meet our high expectations regarding highquality workmanship and sustainable production. That is the only way to ensure that we fully satisfy our customers' health care needs.
The leather we use for our therapeutic shoes is therefore subject to statutory testing requirements. Permanent controls from the tanning stage to the finished shoe ensure consistently excellent quality. Because of this, minor scratches or scar tissue from insect bites which you may find on the upper of the leather are clear indications of its natural source rather than defects in workmanship.
You can have maximum confidence in the quality of the leather we use by the leather symbol certification mark.
Leather care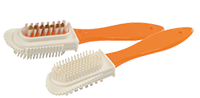 Children's shoes are often subject to extreme stresses and, in this process, the leather uppers must meet certain challenges. As a result, regular care is advisable.
shoe polish can be used for nappa leather, whereas nubuck leather has a velvety surface which can become grubby over time. Rubbing with an abrasive pad or eraser is a good way of improving its appearance, while special nubuck pens will protect the leather upper.
Before putting them on for the first time, the upper material should be treated with a wetness protection spray to keep the dampness out. As a general rule, always dry wet shoes slowly at room temperature rather than exposing them to an additional heat source.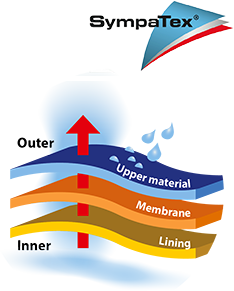 We've got something against wet feet
Nothing is worse than cold, clammy feet. To guard against this, SympaTex has developed a special membrane which absorbs sweat and conveys it away from the shoes so that your feet remain warm and dry all the time. Conversely, SympaTex membrane prevents wetness from outside, thus providing effective protection while also being breathable.
We have equipped many of our winter shoes with SympaTex membrane. These models can be found at the end of each shoe section, where they are labelled with the SympaTex symbol.