Stock collection Orthotic shoes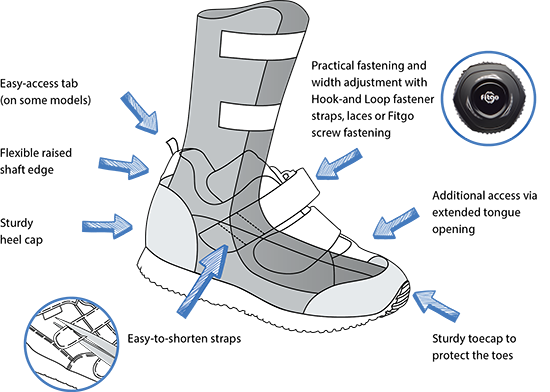 Our orthotic shoes: a combination of proven medical functionality and a fresh appearance
The right footwear is an important addition to an individually produced orthosis. Shoes worn by people wearing an orthosis not only have to satisfy certain key requirements, but must also make walking and running easier.
For the reasons we remain in close contact with our customers with the aim of making continuous improvements and refinements:
New orthotic shoe width TN12
Orthotic shoes for joint orthoses
Flexible outsole
Due to their material quality and shape, conventionally manufactured shoes are not up to meeting the requirements of orthoses. That is why we recommend our therapeutic shoes.

Size
18
19
20
21
22
23
24
25
26
27
28
29
30
31
32
33
34
35
36
37
38
39
40
41
42
43
44
45
46
47
48
49
50

Width

Colour
black
blau
blue
bordeaux
brown
carbon black
coloured
dark blue
dark blue / grey
grey
light grey
lilac
ochre
petrol
pink
purple
red
shiny pink
shiny silver
silver
turquoise
white

Fastener
Lacing
Hook-and-loop fastener
Lacing, Zips
Lacing, Hook-and-loop fastener
Zipper
Exchangeable Hook-and-loop fastener
Fitgo closing system